At Surgical Direct, our reach into medical missions continues to grow. Partnering with Hands of Hope ministries (HOH), our Mission's director, Chris Thele, traveled to Pattaya Thailand earlier this year on a reconnaissance mission in hopes to open doors for future medical opportunities in Thailand.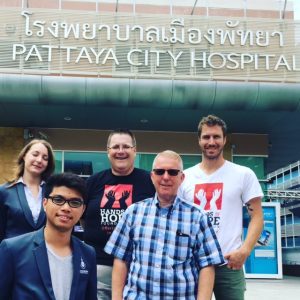 Chris, along with the HOH team, met with the international relations director and staff at Pattaya City Hospital to discuss and discern if and how we could work together in the future. They viewed the facility and made notes of the equipment they currently had and discussed in depth of ways that they could partner in the future.
They also met with the owners of a surgical center that was closed but looking to reopen, viewing their facility and medical equipment, discussing their needs ,and how the facility can again be operational.
HOH is working with the contacts made while there to coordinate future medical missions which may include community clinics, training of their staff by our medical team, and other possibilities.
It's our hope that in the not-too-distant future, we can partner with HOH to facilitate a medical missions trip, where we (one of our techs) can be a part of missional cataract surgery at this location.
For more information about our partnership with HOH, read one of our previous posts (Surgical Direct Supports Eye Surgeon's Mission Trips in Africa) about our trip to Liberia.
If you are a current SDI customer, your involvement can directly affect someone across the globe that needs medical care. We are committed to collecting soon-to-expired or unwanted surgical disposables for donation to missions like these. Talk to one of our reps about what you can donate. It will be greatly appreciated!