Surgical Direct Inc exists to provide solutions to our customers that create pathways of least resistance for ophthalmic procedures. Our vision is for every surgeon and surgical facility that we partner with to have immediate and effortless access to the industry's best technology. We say immediate because you don't have to purchase equipment or order any inventory to gain access to the latest technology on the market. We say effortless because we reduce as many barriers as possible for you to get your hands on what you need. Today, we want to highlight the Hydrus® Microstent from Ivantis and iStent inject® from Glaukos, two game-changing Glaucoma treatment systems that are applied in conjunction with Cataract Surgery.
Hydrus® Microstent: Singular 90º-span Canal-Based Device
Key advantages to this system (reported directly by Ivantis) are as follows:
Ab Interno canal-based approach
Implantation into Schlemm's Canal, the eye's natural drainage channel, which is considered a safe anatomical target and a suitable first-line therapy for implantable MIGS devices
Confirmation of placement
Immediate and direct visual confirmation of successful implantation with a minimal learning curve.
No stent targeting
90° span ensures consistent access to multiple collector channels and eliminates the need for stent targeting.
The Hydrus Microstent was designed to enhance fluid outflow in multiple ways to help patients achieve predictable outcomes. Hyrdus enhances outflow by strategic placement in Schlemm's canal, expanding the natural pathway of fluid in the eye. It's singular 90º coverage offers a single-step solution.
Using a gonioprism, the Hydrus Microstent is inserted through a clear corneal incision and guided through the trabecular meshwork into Schlemm's canal. Once in position, the Hydrus Microstent is advanced until the device has scaffolded 90° of the canal, ensuring consistent access to collector channels.
iStent inject® System: Two Injectable Stents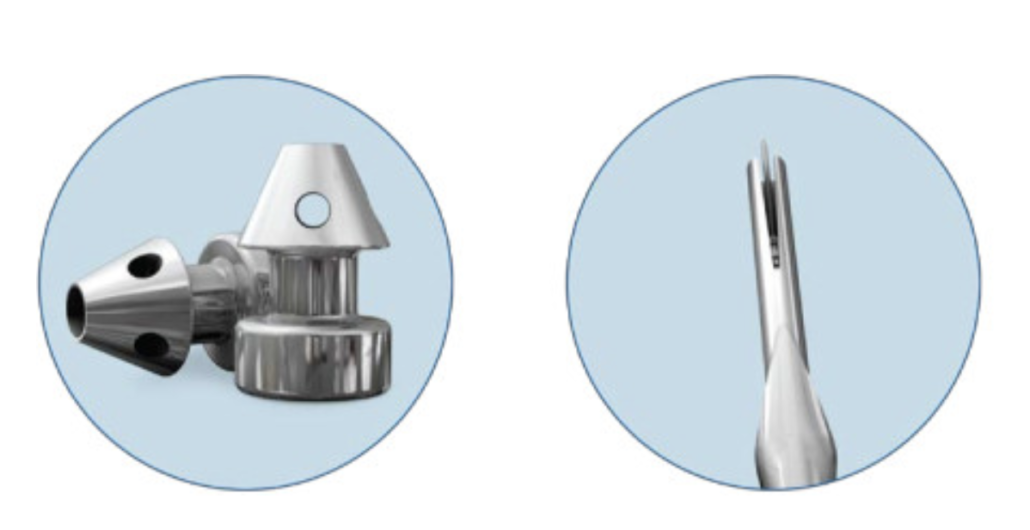 Key advantages to this system (reported directly by Glaukos) are as follows:
Optimized Outflow: Two multi-directional stents designed to restore the natural outflow
Clinically Proven: Significant IOP reduction across a wide range of clinical studies
Procedural Elegance: Predictability and precision to meet the needs of your practice
Proven Safety: Safety profile similar to cataract surgery alone
This system is unique in that it has two multi-directional stents in one streamlined injection system. The system is intuitive, safe, and precise, delivering accurate placement of the stents for predictable performance. The stents themselves have a proprietary design that when placed 2-3 clock hours apart have been recorded to deliver access to multiple collector channels and arcs of flow. These can span five to six clock hours and may also re-establish flow in previously dormant outflow channels.
iStent inject® provides a real Glaucoma solution with minimal long-term complications, like the following (quoted from Glaukos):
Micro-invasive and astigmatically-neutral
Utilizes the conventional outflow pathway
Leaves natural anatomy intact, preserving the potential for future treatment options, including drug delivery devices
Minimally traumatic to delicate eye tissue and spares conjunctival tissue
Reduces the risk of hypotony by utilizing the natural episcleral venous pressure
Offers postoperative care profile similar to cataract surgery
Surgical Direct is proud to provide Hydrus® Microstent and iStent inject® to our Cataract Surgeons.
Hydrus® Microstent and iStent inject® are not the first Glaucoma treatments designed to be used in conjunction with Cataract Surgery. Many such procedural add-ons have existed for years. But both of these newer technologies in Glaucoma treatment come with unique procedural advantages, easy implantation delivery, and positive results.
Surgical Direct offers you a unique advantage. When you partner with Surgical Direct's Mobile Cataract Services, you gain access to the latest and top technology in ophthalmology without the capital or inventory load, including Hydrus and iStent.
If you do not partner with us yet, we invite you to try our services for free with an SDI Demo Day. For more information, click below, request a demo, and we'll be in touch shortly to schedule a demo.
Surgical Direct is here to help streamline your cataract operations to achieve the most efficient, safe, and cost-effective solution possible.